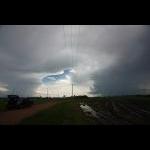 20101217am03
Early storms on the ranges looking W from near Gatton. The one on the left (south) is near Pittsworth, the one on the right is just NE of Toowoomba.
Date: 12/18/10
Views: 3281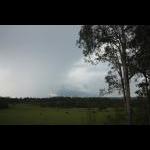 20101217am04
I headed N from Gatton to Esk and stopped about 5km S of Esk. This storm had very nice structure about 15 mins before this photo - looked supercellular.
Date: 12/18/10
Views: 3693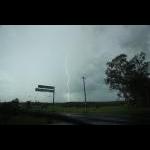 20101217am05
As the cell moved closer, it weakened substantially but was throwing out plenty of CG's from high up in the storm which pulsed many times including this one.
Date: 12/18/10
Views: 3567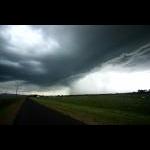 20101217am06
I moved N of Esk as I could see new development to the N of there. Some very large, menacing bases and copious pulsing CGs indicated that this was going to be a nasty storm. This is from just N of Toogoolwah looking ESE towards Somerset Dam.
Date: 12/18/10
Views: 3519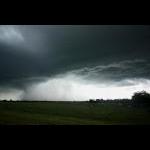 20101217am07
Looking SE towards Somerset Dam from just N of Toogoolwah.
Date: 12/18/10
Views: 3621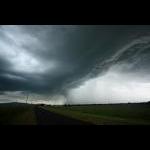 20101217am08
I was trying to catch one of the many CG's that were pulsing out in front of this storm. Failed but still an ok photo.
Date: 12/18/10
Views: 3647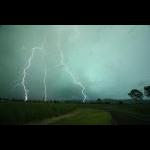 20101217am09
With the shear as it was, storms were moving ENE rapidly. I had to race N and then E to Kilcoy but didn't make it. The storm caught me and blasted Kilcoy with 80-90km/h winds. I continued E and got ahead of the storm just N of Woodford. It was still p
Date: 12/18/10
Views: 3429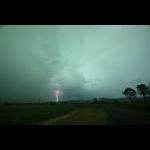 20101217am10
To put the previous photo into perspective, those hills are about 3km away. I let the storm go over me at this location. I encountered winds of 90-100km/h with the first tree on the right of the frame losing a large limb in the process. After the storm
Date: 12/18/10
Views: 2758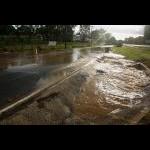 20101217am11
Coming back into Kilcoy, I encountered lots of running gutters, streams, etc following the torrential rain. This floodway was on the eastern side of Kilcoy.
Date: 12/18/10
Views: 3009